Title Page
Information Page
Declaration
I declare that I independently prepared the present work and that I did not use any literature or
resources other than those indicated. Verbatim or non-verbatim citations are all marked and their origin is specified. This also applies to figures, tables and illustrations, as well as to online sources.

Additionally, I declare that the digital version submitted matches invariably the printed version in content and wording.

Garrel, 24.10.2016
Dirk Nienaber
Preface
The following thesis is the written elaboration of my bachelor project and the theoretical support and foundation to my bachelor product which was realized between february and october 2016.
I would like to thank everyone who was involved in this project and was supporting me during the last 6 months. First of all I would like to thank my graduation coach Claudia Tellegen for all the support and honest feedback and also my studycoach Rob Maas for answering questions regarding research. Furthermore I would like to thank the WDR, especially Jürgen Mönkediek and Peter Wejdling for great support on professional networking and content-related assistance. Thank you to Sönke Baumdiek for spontaneous and uncomplicated assistance during shooting and to Verena Seppel for giving a voice to Marion.
Lastly I would like to thank Marion Tapken and her family for giving me the unique possibility to document freely and disclose their privacy.
Garrel, 24.10.2016
Dirk Nienaber
Summary
After finishing my internship at the WDR in Münster and of course during my studies I could look back on a very intense and shaping experience. I was able to acquire and improve a range of skills and learned the importance of storytelling in cinema, TV productions and film in general. To complete my studies I want to tell the story of a young woman, suffering from cerebral palsy, a serious nerve and muscle damage.
By formulating a problem relevant to the documentaries subject I will approach and answer the main question of this thesis: How can I arouse the viewer's empathy and provide general understanding of the daily life and cognitive abilities of physically handicapped people in non-fictional storytelling?
Finding a solution to this problem will be done by doing research which is based on sub-questions, deduced from this report's main question. These sub-questions deal with both questions on the documentaries subject and also technical and aesthetic issues in producing a documentary. To ensure a high quality standard, production schedules, a story outline, professional gear and shotlists will be essential. To make sure the documentary meets the high standards that are set in producing a documentary at professional TV stations I will have an experienced documentary filmmaker by my side which acts as a supervisor. The product will also be tested during production by an independent test group. Setting limits to the production will make sure the documentary doesn't develop in a wrong direction or exceeds the budget.
A brief introduction on the illness of the main character and how it affects cognitive skills and abilities makes it tangible and the goal of the documentary comprehensible.
Documentary-films can be classified into 6 different modes. I will explain in detail how these 6 modes are represented in documentaries and how my finished product will fit into. To keep the production in a realistic and feasible scope, my documentary will be limited to a total runtime of 15 minutes. Some examples and examination of short documentaries will point out the importance of storytelling and how the dramatic composition can be applied.
After a final definition of the problem I will make further explanation on how my research was carried out and what methods I used to find the required information.
Before finishing the report with a conclusion the graduation results will be presented: Explanations on the equipment I used and why, further explanations on storytelling for short-films, what makes a main-character likeable and how to create a stronger bond with the viewer.
After the testing process and the related documentation of aesthetic and technical choices during the editing I will end the report with a conclusion and personal thoughts regarding the realization of this project.
Table of content
1.2 Preliminary Problem Statement
2.1 Use of augmentative and alternative communication
2.2 Definition of cognitive skills and abilities
2.3 How to write a documentary
2.4 The 6 types of documentaries
3.1 Method of graduation project
3.3 Evaluation and elimination
4.1 Ensuring production quality in documentaries
4.1.2 Choosing the right equipment
4.2 Storytelling for documentaries
4.2.1 How to keep a short story short
4.2.2 Protagonists tell the story
1 Introduction
After doing my internship at the WDR studios in Münster I could resort to a lot of skills in storytelling, sound editing, filming and pre- and post production of tv reports and documentaries. These skills were very helpful to not only enhance my knowledge in terms of tv productions, but also set a new professional standard to projects I realize as part of my work as a self-employed.
The goal of almost all of my projects is to tell stories using images. Visual storytelling should always be the main part of my company's vision; this is what sticks to people's mind and creates a recognition value[d]. So it's clear that the product I will write about on the following pages will also tell a distinct story. The story of Marion Tapken. She is 36 years old and as a multiple physically handicapped person, she relies on augmentative and alternative communication. That means that she is not able to talk on her own and can only move herself with huge effort controlling her body.
1.1 Problem Indication
I was always a close friend of Marion for several years and this project sticked to my mind for a long time. It seemed natural to me that portraying a part of her daily life with a documentary would be a very fascinating subject for my bachelor project. One of the most important persons in her life is her assistant Söhnke and her closest family who will also play significant parts within the documentary.
Apart from her work at a special "sheltered workshop" for the handicapped, Marion is also a consultant of the ISAAC (International Society for Augmentative and Alternative Communication) community and gives talks about AAC. The device she uses works as a digital keyboard with synthesized voice output and is controlled by a switch located at her right knee.
Her condition makes it impossible for her to live an independent life like everyone else does. She relies on help in nearly every aspect of her daily routines, motion and even speech. The inability to speak will be discussed as a major part of this project and is the core of my story outline, which can be looked up in the appendix. During my research I found out that not only there is a physical, but also a psychological and social gap between nondisabled and disabled people. Explanatory work is needed to close this gap and educate the target audience.
To always maintain the best possible and constant quality I'll be supervised by Peter Wejdling, a professional documentary filmmaker who works as a freelance reporter at the WDR since 1991.
Peter Wejdling was born in Stockholm, raised in Bonn and started here his career as a journalist. After studying journalism in Münster he became a freelance reporter in 1991 for TV and radio at the WDR Münster. From 1999 to 2009 he presented the "Lokalzeit Münsterland", a news show airing daily at the WDR. Since 2009 Peter Wejdling works as a freelance reporter and documentary filmmaker.
The WDR was founded in 1924 and is part of the ARD, which is a collaboration of different broadcasting stations in Germany. Next to the BBC, the WDR is the second largest Broadcasting Station in Europe and the largest in Germany. It is divided into 11 studios which are all located in North Rhine-Westphalia, a federal state in Germany.
1.2
Preliminary Problem Statement
Due to Marion's condition and the inability to verbalize, some people immediately think of a mental deficiency. But this is not the case. Her illness is limited to a locomotor disorder (cerebral palsy), which means she is not able to control nerves and muscles in her body, including the inability to speak. Creating a documentary about this condition is what I think the best approach to communicate that those people who are not affected mentally have the same thoughts, desires and needs as anyone else has.
Making speeches about AAC and her condition is a huge part of Marion's life and takes a lot of preparation time. While this is also part of explanatory work, the process of preparing speeches takes a lot of preparation time and does not always address a broad audience and mostly aims at people that already have some expertise in this field and/or rely on AAC themselves.
Scientific studies and TV-reportages in this field aim to a broader audience, but provide more scientific and distanced observations and cannot always provide a face-to-face experience like a speech or personal contact does. My product will show a very intimate and personal insight of what it is like to live with cerebral palsy and what life looks like with the illness. The storytelling will help to intensify the viewer's experience and will make use of sound and vision as a tool to remove the gap I was talking about before and will be explained in detail in chapter 4. Resulting from these information the viewer will experience the life of a physically disabled person in a very intimate and personal way.
To ensure a high-quality end-product, a detailed production schedule is needed. Additionally I will prepare a story outline and determine the style of my documentary. While there won't be any interviews with Marion possible in a regular way, it's important to gather information from her as early as possible and make sure she will have enough time to prepare answers to my questions. These information will be important to create a story.
Furthermore I must be able to meet the technical standards that are needed to provide professionality, avoid stress and ensure a comfortable workflow. For scenes in low-light situations studio lights may be important, a steadicam system will decrease camera shakes and good microphone ensures decent sound-quality. [e]
1.3 Main and sub questions
The main question was formulated by keeping in mind how people would react to cerebral palsy that never had contact with this condition before.
Sub questions
1.4 Scope
To keep the production within reasonable bounds, the length may not be longer than 15 minutes and should fit the program planning of the WDR. It's intended to place the documentary on the online media-library of the WDR. This was clarified with the program planning and studio administration of the WDR before the project began.
While most of the equipment needed will be provided from my own inventory, additional devices can be hired at Saxion or WDR upon request. The budget to realize the project will be limited to personal assets.
While there are documentaries showing on TV and web basically for nearly every target group between 12 and 60, my documentary should be targeting at people between 25 and 40. As the protagonist is 36 years old, the audience will be able to connect much better with her. Furthermore I want to tell the story in an unconventional and modern way by letting the viewer hear the protagonist's thoughts.
2 Theory
2.1 Use of augmentative and alternative communication
Apart from oral speech every type of communication that is used to express thoughts, needs, wants and ideas is part of augmentative and alternative communication (AAC). Everyone makes use of it by making facial expressions, gestures and also by writing or using symbols or pictures to communicate.
AAC systems are not merely a helpful tool, but rather essential for people with several speech or language problems. It's used to support or even replace speech that's not functional. Special tools like picture and symbol communication boards or electronic devices can help disabled people to express themselves and of course increase social interaction, sense of self-worth or school performance.
All AAC systems can be classified in two main topics - unaided and aided communication systems:
Unaided communication systems
In case of a less hereditary handicap one can rely on the user's body to convey messages. Gestures, body language, or sign language are a very natural way to communicate and make it easy to express oneself.
Aided communication systems
In addition to the user's body aided communication systems make use of tools and equipment to allow communication. Examples reach from pen and paper to communication books, boards or devices that simulate voice, generate text and speech output. They allow the user to personalize own preferences by programming it with all kinds of media like pictures, videos, words and phrases and even create messages in different languages.
2.2 Definition of cognitive skills and abilities
To find a definition of cognitive skills and abilities the term of cognition itself has yet to be clarified. Cognition has to do with how a person understands the world and acts in it. In other words it's the set of mental abilities or processes that are part of almost every human action.

Cognitive abilities are needed for every task a human being has to process, whether it's a very simple or a very complex one. These brain-based skills are more important for how we learn, problem-solve, remember things or pay attention than any knowledge could be. For instance driving a car involves perception (seeing traffic lights or pedestrians, hearing car horns, etc.), decision taking (choosing to overtake another car in tricky situations), motor skill (operating different parts of the car), language skills (talking with policemen, asking for directions, understanding navigation systems or traffic news), social skills (interpreting tone of voice, interaction with other human beings in a proper way).

Cognitive abilities or skills are supported by specific neuronal networks. For instance memory skills rely mainly on parts of the temporal lobes and parts of the frontal lobes (behind the forehead).
There are special neuronal networks responsible for cognitive abilities. For example: Problem solving, motor planning and organization is executed by the frontal lobe, while sense of touch or visual perception is controlled by the parietal lobe.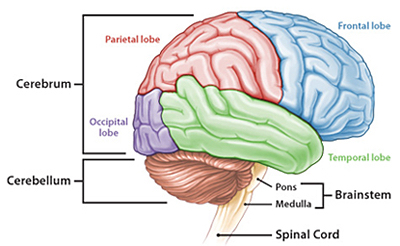 (Image: LippoInsurance – Kanker Otak. (n.d.). Retrieved September 28, 2016, from https://www.lippoinsurance.com/kanker-otak/)
2.3 How to write a documentary
The first part of every documentary is choosing a subject and assembling a context and basic factual information about it. A good documentary lives by capturing the right moments. To achieve this however, a good planning and some research is needed. Becoming known and trusted by participants, getting to know the whole scene and deciding what the ultimate purpose and motivation should be are just a few examples of things that have to be kept in mind.
2.3.1 Initial stage
During the initial stage a working hypothesis will be the first step that has to be accomplished. A working hypothesis can be described as a list of expectations, a conceptual framework, which is the basis for a detailed research. Doing site and background research will help to get in touch with the people participating and situations that may be important to tell a story. Observing the protagonist, the scene and staying close to the action helps to work out a framework. Further information on the subject can be derived by literature studies, talks with experts or by watching films on the subject.
Getting to know the participants of the movie and developing trust is the final step of the initial stage and sets the foundation of a successful and relaxed collaboration, which will be reflected in the documentaries mood. Even spending free time with the subjects helps a lot in gaining trust on one side and receiving valuable information on the other.
2.3.2 Proposal
As a second step narrowing down the topic leads to finding a center of the film. Focusing films on a specific topic instead of showing a broad and generalized view makes the documentary have more impact and captures the interest of the viewer.
Making lists helps to organize each part of the production and displays expository information, goals of the film or which material to shoot in a structured way.
As a necessary final part of the proposal choices have to be made in casting (which people and places to use), what's typical and atypical in telling the story, whose point of view should be favoured and of course defining one or more central characters of the story.
2.3.3 Aesthetic choices
Defining the style of the documentary means finding a style that best fits to each sequence and point of view. Imagery helps to intensify the storytelling in a nonverbal way. The silent movie "Sunrise", made in 1926, was classified as a significant piece of cultural history, as the director chose to make use of acoustic visuals and imagery. The actors showed their feelings by body language only.
Conveyed to a documentary this means making decisions about life-roles of each person participating in the dramatic structure, seeking images that are expected to be seen and convey the significance of the film and deciding about key actions whose connotations have meaning for the central purpose of the film.
Pitching these ideas and testing will be the final part before the shooting begins. After speaking to outsiders the ideas can be altered to maximize the audience response. The goal is to make people read the proposal and see the film that I see.
2.3.4 Preparing Shooting
When it's time to start filming it's also time to think about the intentions of the film. A final draft is needed to organize these considerations. In addition to that one should also think about the budget planning. Are props needed? What about travel costs or equipment rental? Is subsistence and accommodation needed? Furthermore obtaining permissions should not be forgotten. Especially for this kind of documentary or other film projects dealing with people in sensitive situations, obtaining official permissions for filming are essential.
During other film projects like professional corporate movies or even working on private short movies I realized the importance of communication with the crew and auditioning doubtful participants. Setting standards for work and allowing enough time to become accustomed makes shooting a lot easier, more enjoyable and effective.
2.4 The 6 types of documentaries
It was Bill Nichols who firstly outlined 6 different types of documentaries in his book "Introduction to Documentary" from 2001. But nearly all modern documentary can be classified in more than one of these types, since most documentaries are not made exclusively in any one style. A good example would be the documentaries of Michael Moore, who made use of participatory and performative modes or Albert and David Maysles who mixed participatory and observational modes to have off topic interactions between crew and subject in their films.
What are the characteristics of each of these types and how will my documentary fit into these? I will answer this question in the following passage.
2.4.1 The Expository Mode
The most familiar mode of documentaries is the expository mode. These kind of documentaries are characterized by a proper amount of research and are mostly used for educational and explanatory purposes. Elements of the production include interviews, graphics in form of illustrative visuals or photos and a narration ("Voice of god"), which connects the elements of the story.
During the second world war the propaganda films seen in TV and commissioned by the government were told in a typical expository style. They were used to inform the population about the actual involvement of the U.S.
Other famous examples are "The Civil War" by Ken Burns or TV Shows and films like America's Most Wanted or science and nature documentaries.
2.4.2 The Observational Mode
The best explanation of observational documentaries is describing the viewer as a fly on the wall who would just observe the scene. The are also referred to as cinema verité, direct cinema or just fly-on-the-wall documentaries. The observational mode strives to observe the events with as little intervention as possible.
The first observational documentaries date back to the 1960's, where technological developments allowed the filmmaker to use mobile lightweight cameras with portable synchronized sound. Also faster lenses allowed spontaneous filming in low light conditions. These documentaries strive for realism, intimacy and showing ordinary life situations.
Frederick Wiseman ("High School", 1968; "Public Housing", 1997) was one of pioneers of observational documentaries. He let the scenes speak for themselves without the use of any interviews, narration or other commentary. Wiseman uses a microphone to show the camera-operator what he wants to have filmed and communicates through hand signals.
Another famous example of an observational documentary is "Salesmen" by Albert and David Maysles, 1969.
2.4.3 The Participatory Mode
"[when] the encounter between filmmaker and subject is recorded and the filmmaker actively engages with the situation they are documenting."
This quote by film critic and theoretician Bill Nichols describes the participatory documentary pretty accurate. The first documentaries that come to one's mind are probably the ones from Michael Moore ("Bowling for Columbine") or "Super Size Me" by Morgan Spurlock, although they also have a strong expository touch as well, since they strive for enlightenment of the population and have therefore explanatory background.
The philosophy of participatory documentaries is that it is impossible to not alter or influence the events taking place during the production. Therefore they emulate the approach of the anthropologist: participant-observation.
Some other examples are Jean Rouch's "Chronicle of a Summer" or Nick Broomfield's films.
2.4.4 The Reflexive Mode
Reflexive Documentaries don't open a window to the world to show us the outside, instead they draw attention to themselves as they reveal how documentaries are created and therefore how the illusion of real life is constructed. The question how the world gets represented in documentaries has priority.
It's not about relationship with the filmmaker and the subject, it's about showing the man behind the curtain and sometimes revealing how the audience gets the run-around, like in Rob Reiner's "This is Spinal Tap", a "mockumentary" about a fictional heavy metal band.
Other suggestions are "Exit Through the Gift Shop" from 2010 and "The Spaghetti Story" from 1957.
2.4.5 The Poetic Mode
Sometimes filmmakers emphasize cinematic values like shot design, composition and rhythm over content to create visual poetry. The goal is not to argue a point or reveal, but to just create an impression. Based on silent films and the very famous City Symphony film movement of the 1920s, poetic mode documentaries were some kind of reaction against early fiction film. The poetic mode didn't use continuity editing, instead organized images by means of associations and patterns. Narration is barely used and if so, is expressed visually rather than rhetorically.
One of the more popular examples of poetic documentaries is "Koyaanisqatsi", by Godfrey Reggio from 1982.
2.4.6 The Performative Mode
A performative documentary is the complete opposite to observational documentaries. That means that everything what observational documentaries try to avoid, the performative mode tries to achieve. Or, in other words: The filmmaker is completely involved in the story and with the subject and tries to show a reality through his own set of mind and experience. The viewer is part of the journey and has a strong feeling of involvement as the filmmaker acts as a personal guide who tells the story by the use of raw emotion.
Examples of performative documentaries are "Tongues Untied", the story of the black, gay community in the late 80's of the U.S. or "Danube Exodus" by Péter Forgács, whose films are created from found home movies and recovered personal records to tell stories of ordinary people whose lives were overtaken by catastrophic, historic events.
2.5 Documentary short films
Telling a story in a limited amount of time is not an easy task to fulfil because characters and storylines only have a very limited amount of time to be presented in the preferred way. During my research I picked two different documentaries with the length of approximately 15 minutes to find out how the story is being told and how the arc of suspense builds up.
I Am Yup'ik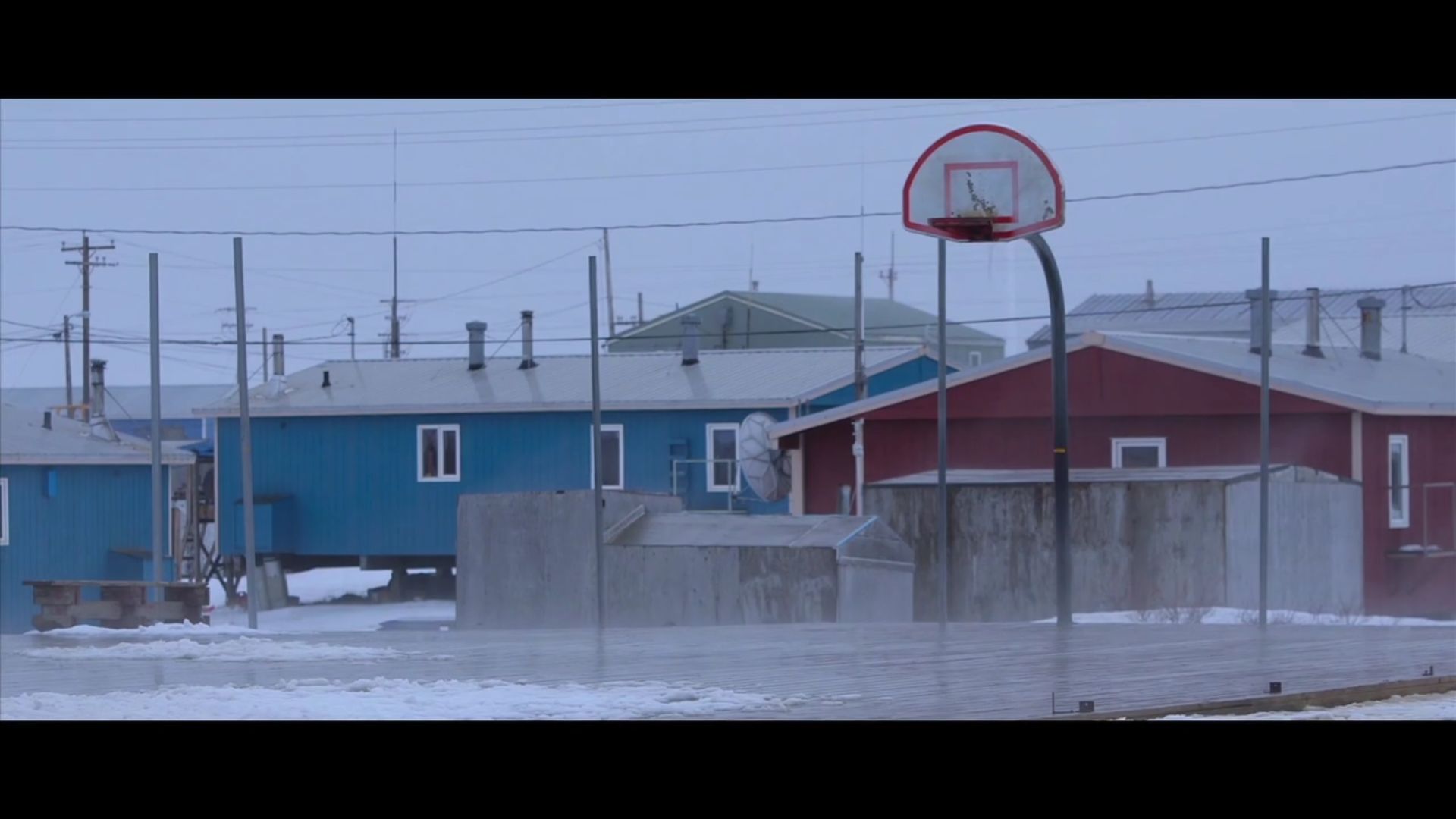 This 17 minute documentary tells the story of a 16 year old teenager of the Yup'ik which leaves his tiny village to travel hundreds of miles to take part in a basketball tournament to bring pride to his village.
The storyline follows the typical principal of "A hero's journey". After 3 minutes the viewer already got to know the main protagonist, his motivation, where he lives and who the other people around him are. It's about basketball, it has a major importance to the Yup'ik, as it's seen as a tradition that connects all the people living there in a cold, desolate surrounding. As the story continues a major problem gets clear. The young boy's father left from one day to the other a long time ago, so besides his mother the boy had to take a paternal role to his younger brother. Apart from his private problem there's also a social one: Young people living at this place are depressed, even suicide is a problem as the viewer hears from one of the villagers.
Basketball gives hope to these people and the protagonist could become a bearer of hope by attending and maybe even winning a basketball tournament hundreds of miles away.
This is where act 2 begins: Just moments before the great tournament starts. The viewer gets to know the basketball coach who takes the role of the mentor who teaches the lead. The game itself is the climax of the film. The final conflict where it's decided whether there is hope for the young people or not.
Act 3 - The film ends with victory and a heroic return. In the end it shows that there is indeed hope for people in this desolate place and a the final clip and text overlay leaves the viewer with the impression that in the end it's not only about winning, it's about friendship and solidarity.
Pink Boy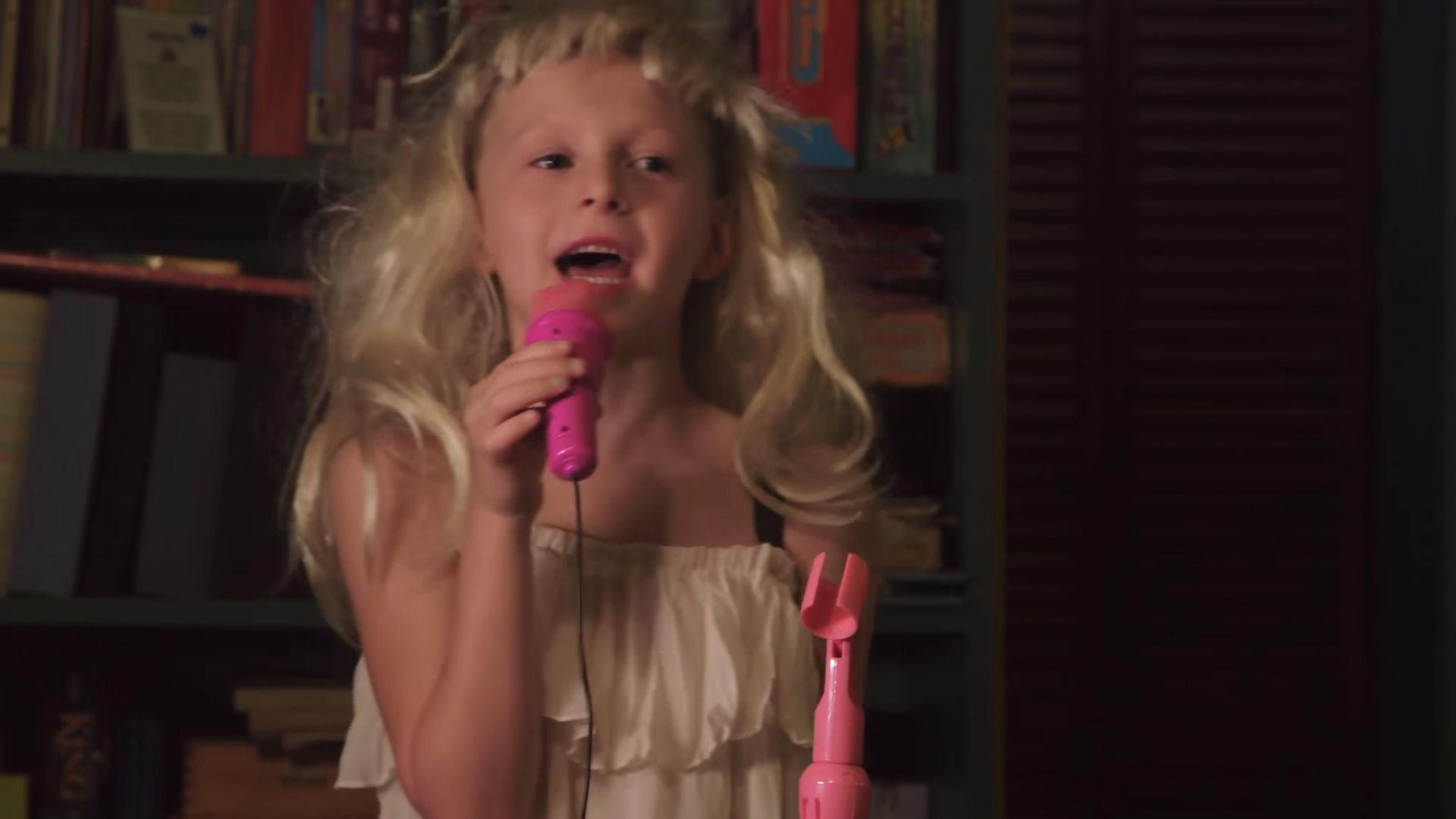 Pink Boy is an intimate portrait of a gender-creative boy who to the shock of his lesbian mothers, decides to wear gowns and dance and perform in those for his parents. The story is told in a more observational way, where the 6 year old Jeffrey is subject of the film, but not the main character. That would be BJ, Jeffrey's great aunt who takes the role of the guardian, although she is more reacting to Jeffrey that leading him. Eric Rockey, the director of the film tried to simply spend time with Jeffrey and his family, to let the viewer understand Jeffrey's personality and avoid getting the film classified as an "issue documentary".
The film starts with a clear statement. The viewer sees Jeffrey in a gown and a wig as he performs his own song. During the story it gets clearer that his great aunt was not always so open minded about Jeffrey's decision as she is now, as Jeffrey was not allowed to wear girl's clothing and gowns for a long time. She admits at one point that she was a bit disappointed, since she herself is not a very feminist person. Towards the end of the movie it's the first time in Jeffrey's life he is allowed to dress as a princess for halloween. It's the turning point for Jeffrey and his great aunt. This is where BJ fully accepts Jeffrey's affection and biggest wish to become a girl when he grows up.
Pros and Cons
As noted above, a downside of short documentaries is the very limited amount of time that's available to tell a story and shaping a character. In a way, a short film or documentary is narratively and conceptually harder to write, since there is a very limited time to convey a story with enough scope to say something that goes beyond the pure succession of events. However, this disadvantage can also be seen as a benefit. The film doesn't have to switch between multiple storylines and the producer can concentrate on one story and very few main characters. Due to the assessable storyline the viewer's span of attention may be higher than during a feature film.
Producing a short film is a great way of learning - simply by being in front of the camera, writing a script, working with actors or the director. Producing a short film can be achieved in a reasonable period of time and by keeping one's skills sharp, it also helps to diversify a professional portfolio. Apart from that it's the perfect way of networking with other actors and industry creatives. Student short films can reach a huge audience and as a result they can be a very good showcase opportunity. Websites like shortoftheweek.com or studentfilms.com are just a few examples of shortfilm-communities that feature student productions.
2.6 Definition of the Problem
After building up the theoretical framework, it's time to determine a final definition of the problem that needs to be solved. Answering the following questions can help finding a definition:
What is the problem?

Who has the problem?

What are the goals?

What are the side-effects to be avoided?

Which actions are admissible?
After combining all the information gathered in the problem analysis in the first chapter I was able to create an explicit statement of the problem:
Enlightenment on physically handicapped people used for a non-fictional storytelling approach in a linear-narrative documentary film.
This definition should also act as a headline to my thesis to provide a quick and informative insight on what this research will build up to.
3 Method
3.1 Method of graduation project
In order to carry out an elaborate investigation I had to find the right approach of the methods applied for the research. Not only is this important for the final result, it's much more essential to find appropriate material and information to draw the right conclusions. Of course it's also a necessary step for defending the information found as well as it is crucial for further discussions on a reliable basis.
Part of my research will be mainly based on exploring, as I want to dive into the protagonists world and observe social aspects. The other part will of course be done by literature research to build a theoretical framework. In addition to that I will interview the involved parties and substantiate my knowledge with desk research.
Methods
Desk research

Field research
Sources
Books

Articles

Documentaries

Websites
The goal of using these research methods will be creating different sub-products which are needed for each part of the documentary, namely:
Pre-Production
Interview

Story outline (Script)

Voice-Over Script

Storyboard

Production Schedule

Gear List
Production
Camera Shot List

Call Sheets

Documentary
Post-Production
Editing Schedule

Documentary
3.2 Research approach
Generally, I was looking for information both on the subject of severely disabled people as well as on the subject of producing documentaries in conjunction with professionality and consistency for broadcasting productions. This approach was all part of my preliminary research and helped me not only in gaining basic information about what's important for production interests, but also in getting an in-depth insight on people living with cerebral palsy.
So my research approach was split in these two subjects mostly all the time.
Most of my material I collected concerning handicapped people I gained from websites, articles or videos of the internet, but also personal contact with families and professionals shaped my understanding of this condition. While there were plenty of informative material printed in books or placed on websites, these informations were way less precious than a personal observation or an interview with affected people was. I realized that the best way to really get a profound insight on top of my literature research was to spend time with marion and her family and dive into her everyday life.
With this method I was able to get a very personal reflection of how life with cerebral palsy really looks like. I would be able so see and speak to those affected, which would help me to write my documentary in a very intimate, yet deferential way.
The problem with writing documentaries was that I had no idea how this was done. A documentary should not be based on a script, at least not this one. So the main part of my broadcasting-research was gathering as much information as I could about writing documentaries and storytelling. This was mainly done by desk research using books, articles and professional magazines. For me that was very helpful and brought structure to my plans and showed me how each part of the production looked like, from pre-production to filming to editing. In technical concerns I was already well trained by an internship as a camera-operator at the WDR in Münster and my years of work as a photographer. In addition to that my apprenticeship as an IT-Engineer and 3 years of work in a major german cable-company would wipe out most technical questions when it comes to installing software or hardware or troubleshooting.
Getting to know how to tell a story and how a three-act structure works was another subject I had to find information to. To keep a documentary interesting a three-act structure is the traditional way to tell a story, although not all documentaries use this kind of structure. Finding information via desk research was not hard and helped me to understand this way of storytelling. However, to fully realize how the three-act structure works in a 15 minute documentary I decided to find a list of a few of the best documentaries made, watch them and apply the three-act structure to them. This was the final step to really understand how storytelling in documentaries works and how important it is to keep the viewers attention.
3.3 Evaluation and elimination
After collecting all the information needed in order to start the documentary I was time to evaluate the resources in a more comprehensive way. As I stated before my information was split into two main-subjects: Research about production matters in general and research about the subject and the story itself, in this case living with cerebral palsy.
Of course some information I intended to use in the beginning was not needed anymore or had to be skipped because my production plannings had been changed in the meantime, I couldn't guarantee the required level of quality or it would not add anything to the story. This meant to separate the important and valuable data from the insignificant and irrelevant data to focus on the essential aspects.
After extracting all the needed data using the research methods as stated in the first paragraph of this chapter, it's possible to answer the research questions. Answering the sub-questions will eventually lead to a detailed answer to the main research-question.
Desk research, Observation: How do people with cerebral palsy communicate and how has communication evolved in this area?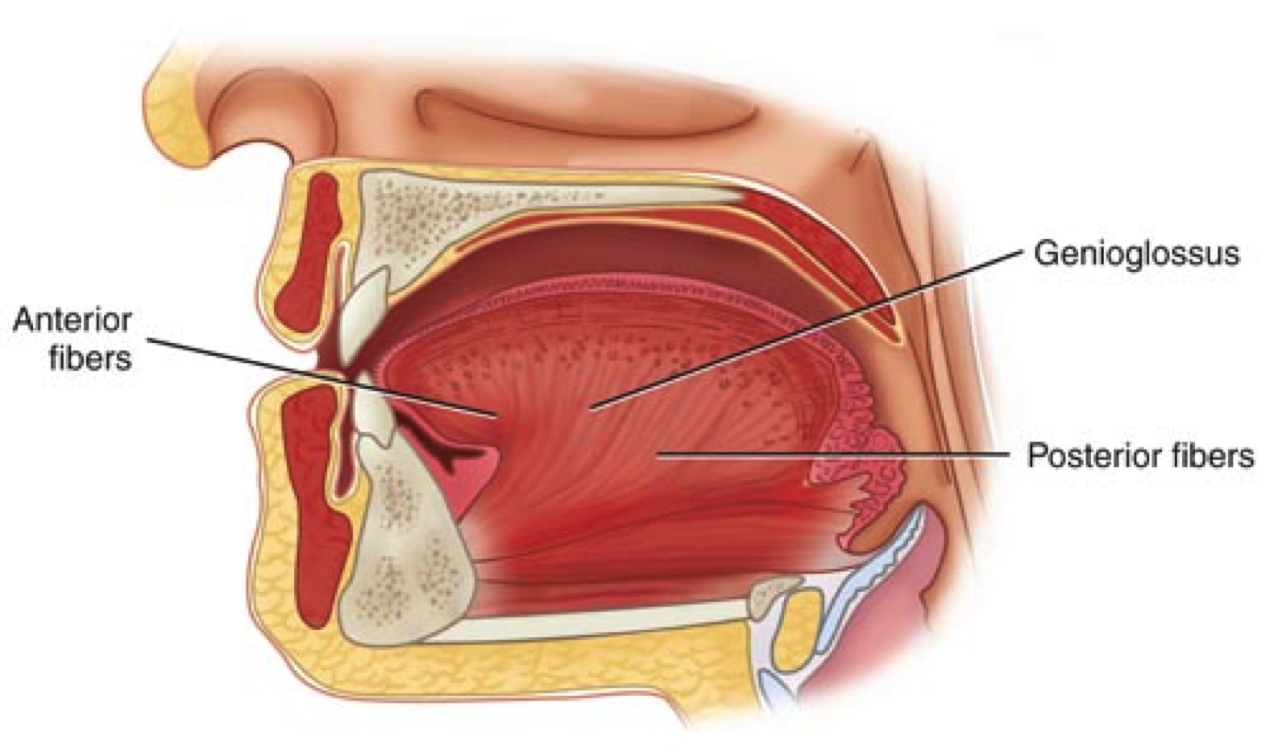 People suffering from cerebral palsy or other physical constraints that compromise the nervous and muscular system often struggle with the ability of verbal communication caused by the inability to control the genioglossus muscle, needed for speech.
While everyone should have the right to communicate, science made huge steps in the last decades in developing hard- and software to help these people. Augmentative and Alternative Communication (AAC) is the way to go. Different techniques reach from endogenous communication techniques like making noises or gestures to non-electronic means of communication like picture- and symbol cards or communication boards to electronic means of communication, for example: Buttons with voice output, communication devices that can be controlled by gestures or eye tracking or in Marion's case - so called VOCAs, electronic devices that can be programmed to read out predetermined sentences or unknown text.
Apart from this information covered by a short desk research more information gathered at close range can be interesting. Interviews at sheltered workshops and one-to-one conversations are a good way to go and experience augmentative and alternative communication devices in real-time.
Observation, Interviews: How do outsiders approach people with cerebral palsy?
Approaching handicapped people is never an everyday experience. I decide to examine it by observation, people with a lack of experience in this area often feel insecure in the presence of physically or mentally disabled people. While this of course depends on the degree of the disability I could already observe this behaviour during my work with marion and her family.
Doing interviews or surveys can extend the research and are a structured way in getting deeper into the subject matter. Also it's a quick and easy way of gathering information, but people may leave information behind that could be important to get a clear and genuine impression.
Desk research: What are cognitive skills and abilities and how do we use them?
Cognitive skills and abilities consist of seven different brain functions: Perception, attention, memory, motor skills, language, visual and spatial processing and executive functions.
These abilities are needed for every task we have to execute, whether it's an easy one or something more complex. Apart from motor skills, people suffering from cerebral palsy usually don't have any difficulties with mental abilities.
Literature about anatomy will help me to get an oversight of the different brain functions that are important for my research.
Desk research: What effects do visual and auditory stimuli have and how is our response affected by them?
Visual tricks are a powerful tool to emphasize emotional information and guide the audience's judgement about a character or object in the movie. For example: A bird's eye point of view or a high angle lets the subject appear small and helpless while a low angle increases the size of the object and makes it dominant and may inspire fear and insecurity in the viewer. The right piece of music combined with the right footage can amplify a certain scene or the emotions of the viewer.
To make meaningful use of colour, light, movement, audio, camera angles and editing a story outline of the documentary has yet to be made. Nevertheless, it is essential to make use of these techniques to intensify emotional values, which will give more meaning to the documentaries substance.
To clearly see the impact different perspectives have and how they are used in a cinematic environment, inspiration and information can be received from literature and by watching high-quality documentaries and movies.
Field Research, Interviews: How should the documentary be spreaded and what channels are suitable?
The goal of my documentary is to arouse the viewer's empathy and to be thought-provoking when it comes to social interaction with profoundly disabled people. This can only be achieved if the documentary will reach a broad audience. In arrangement with the studio management and program planning of WDR it will be possible to make reasonable use of the finished documentary. The current planning provides that it will be aired on the channels online-platform but may also be aired on television to a subsequent date which however is not within my power, currently.
Desk Research: What is an effective way to write a script for a documentary?
While writing a complete script will not be an appropriate way to produce this documentary, the storytelling will be the most important part to raise awareness and involve the audience.
To learn more about scriptwriting for documentaries, plenty of resources can be found in books, magazines, blogs, websites or video tutorials. In addition to that watching other documentaries and getting in contact with documentary filmmakers is another way to go.
Answering this sub-question will be the most important part on the way to finish the portfolio-item since a good storyline should be the foundation of a good documentary
Desk Research: What storytelling techniques can be used for documentaries and what is the best to choose for this project?
While researching about different approaches to storytelling and in what different ways a story can be told I found some information on 6 different forms of documentary storytelling, namely: Poetic documentaries, expository documentaries, observational documentaries, participatory documentaries, reflexive documentaries and performative documentaries.
I will answer this sub-question by explaining each technique in detail and give a short estimation what might be the best way to tell my own story and how it can be applied to these techniques.
4 Graduation Results
This chapter will elaborate on findings and insights gained from testing and collaboration. These are the results which were found during the main period of my graduation phase, thus they will be used to create the outline which will be needed to draw a conclusion in the end and forming the base for further discussion and the final product.
4.1 Ensuring production quality in documentaries
My long-term planning will determine a career as photographer and filmmaker. That implies that ensuring a high production value and the best quality possible is not only something to strive for, it's more my duty as a professional and should always be at the forefront of every project. During the last 6 months working with everyone involved in the project it became clear that my quality standard I set in the beginning can only be achieved if the amount of work which lies ahead won't be underestimated.
In order to get a clear view of what has be done and still needs to be done, a production team must organize its production methods so that it can be executed in a repeatable and timely manner. A planning in form of reliable documents like storyboards, shot lists and call sheets will help to stick to the planning during production, but before production starts the producer decides what the documentary actually needs based on the collected and summarized information. After that the team must consider its own capabilities and resources to put a plan into action. What are critical parts during the production? How can risks be reduced or avoided? How much personnel is available to successfully conclude the production phase? As a final part of the planning process the producer must ask the question if the concept meets all the requirements stated in the beginning and if it has a detailed production plan. Guidance is a crucial element during the production and should not be skipped to avoid stress and frustration. Nothing is worse than a stressful film-production, moody protagonists or an unmotivated crew. However, the team must also anticipate some turnover at the end of the project. It is not uncommon that projects in this extend might take a bit longer than expected due to outside influences or eventually will be over budget.
4.1.2 Choosing the right equipment
To make things clear from the beginning: A good story and meaningful content is always more important than having the best equipment available. The story should always stay in focus of the production and can also be told on an iPhone if that's the only camera available. Especially for documentaries the gear should always provide flexibility and should be easy to use. In the following paragraph I will compare different kinds of filming equipment to find the best suitable option for realizing this project. I will not focus on consumer-cameras however, since they don't satisfy my requirements in terms of picture quality and connectivity.
Camera
Professional video cameras used for broadcasting and cinema productions usually come in a building type that allows the operator to place the device on the shoulder. On one side this allows ensuring stability while filming, on the other hand it's also relieving his arms, though these video cameras can be very heavy. A big plus however is the excellent picture quality, high connectivity and fast setup.
Much cheaper and easier to use, but with constraints in picture quality are professional handheld cameras like the P2HD from Panasonic. The quick setup and easy operation really makes this a great choice for documentary filmmakers that don't want to be distracted by technical concerns.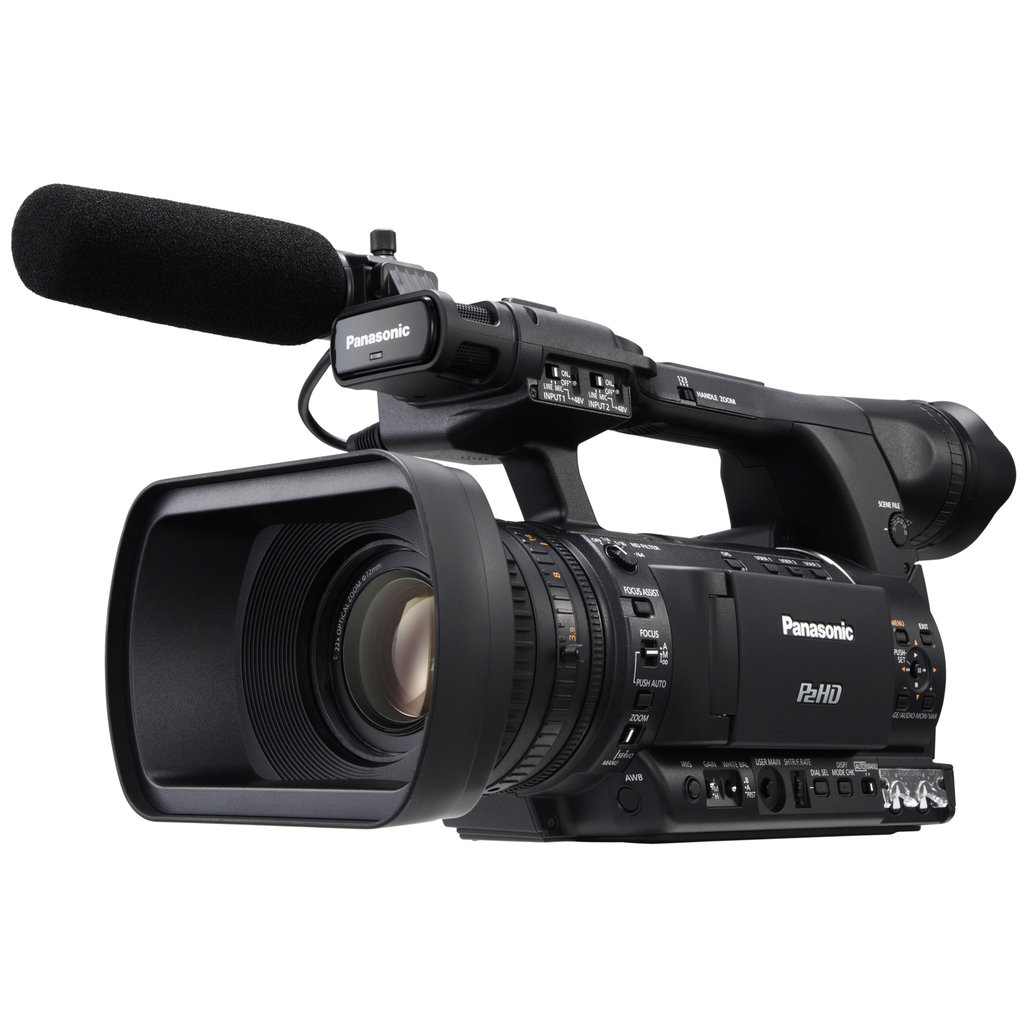 For this documentary in particular I chose the third option: Filming with a DSLR (digital single lens reflex camera). In fact DSLRs are mostly used for photography, but this doesn't mean they aren't suitable even for professional film productions. Canons 5D has long been an integral ingredient in the field of broadcasting and professional filmmakers like Philip Bloom use mirrorless cameras like Panasonic's GH4 or the Sony a7s for their own productions with great success. They provide high flexibility with a modular setup, fast and easy workflow in post-production and a cinematic look thanks to a shallow depth of field. That also means lenses can be switched very quickly which is not possible with a professional handheld video camera.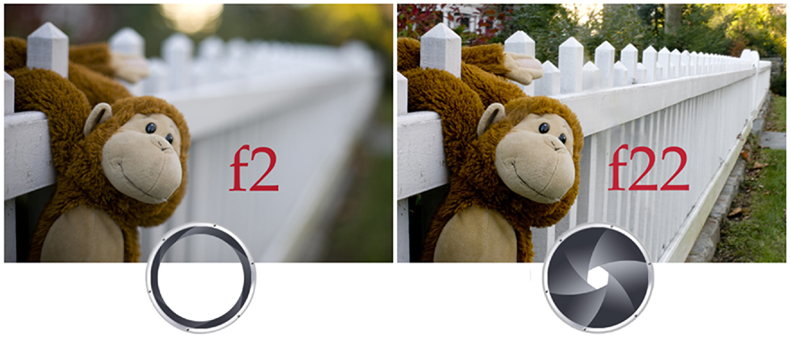 Comparison of depth of field using two different apertures.
(Image: El Cajon Valley High School Photography. (n.d.). Retrieved September 28, 2016, from http://ecvphoto.weebly.com/)
Sound
Good sound quality is a fundamental part of every film production and helps to enhance the quality of the product, especially if the image quality isn't able to keep up. Soundtracks are a powerful tool for storytelling and help giving a film impact. While documentaries make less use of artificial sound effects than movie productions do, music-tracks and voice-overs are an inherent part in documentary-films. Music is used to establish or change the mood of a scene or shows where and when the film is set by using music of an associated location or time period.
During my research about what equipment I would need to realize my production in the best quality possible I found out that film productions for documentaries all rely on three microphone-setups that are used to record location sound and speech.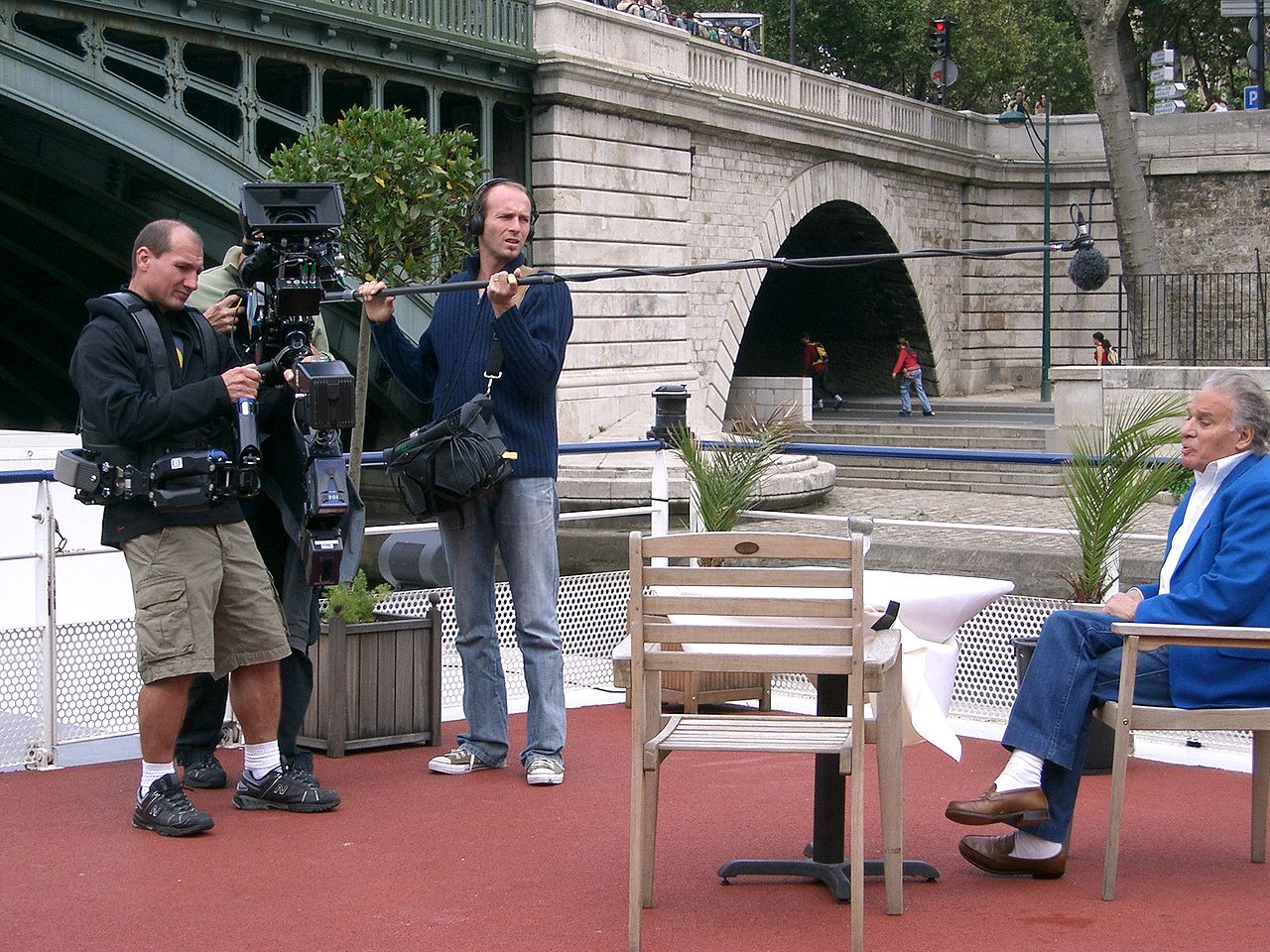 The on-camera shotgun microphone is a very simple setup which can be treated as an upgrade to the limited internal sound recording most video-cameras offer. As long as there is not direct speech involved this setup is fine for recording ambient noise and doesn't require much preparation. The logical extension to this is working with a boom operator who is in charge of controlling the microphone attached to a boom-pole via a mixing console. The microphone can be brought very close to the action if needed and is a good choice for spontaneous interview situations or setups that require high flexibility.
To get even better sound quality a clip-on microphone is probably the best choice to go. These small microphones can be attached to the protagonists clothing and often works wireless. A downside could be the high price of this setup as it can only be used for speech, so an additional microphone for ambient noise is needed, nevertheless.
Additional equipment
These choices I'll make only apply to optimal conditions, however this is of course not always the case in real life situations. To maintain the best possible quality standards in all situations, regardless of weather or light conditions, some additional equipment will be needed.
Tripod: A tripod should be a fundamental part of every production. Mounting the camera to an absolute stable position brings serenity to a scene and focuses the viewer's attention. Apart from that it's also needed to produce conventional camera movements like panning and tilting.
Shoulder rig: Using a DSLR for filming is not always the most ergonomic solution when it comes to handheld work. This may cause unpleasant camera shakes which will draw the audience's attention to the camera and breaks the 4h wall and the illusion of reality. A shoulder rig moves with the camera operator and helps to keep the camera stable while shooting. It's flexible to the movement, which really helps to increase the efficiency during production.
Steadicam: Steadicam is a brand of a stabilizer mount that stabilizes the camera using an ultra-low friction gimbal and counter-weight. It's a great tool for doing interviews while walking, following the protagonist by foot or even on a bike. During production there will be some situations I might need a steadicam. It's the quickest and most efficient way of adding moving shots to a project.
Microphone wind shield: A microphone windshield is usually made out of foam and comes in different sizes and variations. It's highly recommended for recording audio outdoors and avoids noise that is produced when a blast of air hits the microphone.
Headphones: To have perfect control and assurance about the volume and quality of the recorded sound I always use my AKG on-ear-headphones. These reference studio headphones score with perfect wearing comfort even during long productions and deliver genuine sound.
LED panel: When it comes to low light situations most DSLR's really have to subordinate themselves. Especially the GH4 doesn't perform well when it comes to shootings during the night or in a dimly lit room due to its relatively small sensor. A small LED panel mounted on the shoulder can be worth a mint to avoid rejecting a shot in the editing because of inadequate lighting.
I decided to not use an extensive amount of professional video lights to keep the look of the film as real and unaltered as possible and to keep my setup small and effective, since I would have been able to react quickly in certain situations like reactions of other people.
Conclusion
My choice to buy the Lumix GH4 as a professional video production tool was also based on the good experience I had with similar cameras from Canon. The GH4 provides excellent FULL-HD and even 4K recording with 25 frames per second if needed. Combined with the Sigma lens 18-35mm F1,8 and a Metabones Speedbooster that allows more light to encounter the sensor I was perfectly prepared even in low light situations.
On top of that an on-camera shotgun microphone for recording speech and on-location sound, a shoulder rig for providing more stability and a compact steadicam to ensure a perfectly rigid image even while running would complete my equipment.
For this documentary-film I didn't see the necessity to do interviews as I chose to have a mix of the expository and observational mode to tell the story. Speech will be recorded afterwards in the studio.
4.2 Storytelling for documentaries
Documentaries are no scientific coverages or tv-reports. A good documentary lives from telling a personal story in an emotional and emphatic way. When production ends there are 50 to 100 or even more hours of footage on the hard drive but without editing it is completely unreadable and doesn't make any sense. From this illegible bulk of mass the editor has to create the film and look through the whole material. Usually he doesn't know the protagonists neither the conditions and difficulties during the shooting. As a consequence the editor has a very "unspoiled" impression of the whole material and can classify and evaluate the footage in an unattached way. It is not uncommon that the editor has a completely different impression of certain situations or doesn't see the same meaning in some situations the producer did.
When editing starts the question reappears: What is the story? How can a story arc be developed? For most documentaries a three-act structure is a common way to tell a the story, which is divided into three elements at least: Beginning, middle and end and is also called "The hero's journey".
The hero sets a goal in the beginning, fails to reach the goal and struggles for it in the middle part and finally finds a way in the end by finding a new goal or fulfilling his destiny that was established in the beginning.
4.2.1 How to keep a short story short
The running time of my documentary should not be longer than 15 minutes. Although interesting stories can be told in less than that (commercials, short movies), telling a life-story of a person in this time frame is challenging. Emotions need space. A movie has to offer some breaks within the plot to give the viewer time to laugh or cry or to think about the events and interpret these. Hollywood Blockbusters like Transformers or countless installments of catastrophic on-screen disasters spiced with explosions often go the safe lane. A movie bombarding viewers with impressions without a break is indeed rather on the safe side of entertainment, but it gives away the chance to convey large and deep feelings.
The narrative rhythm is created by several means and depends on the length of the film, the length of each scene or how long the film sticks to a specific subject or protagonist. Keeping down the number of protagonists is a crucial point in the length of the plot. Limiting the number of characters helps to stay focused on the protagonists journey and keeps the story simple. More characters mean a more twisted storyline, which means a longer film. The same goes for the plot. Covering as much time as possible in the story doesn't make sense in a short-movie or in a documentary like this. The plot would get more complicated, which would again result in a longer film.
Not only in the pre-production, but also during post-production the editor has to ask the question: What is this specific scene good for? What dramatic function does it fulfill? And what does it want to tell? Does it work this way? Only if every element of the story fulfills its function, it has the right to exist. If certain events that should have been part of the story in the beginning, but even after the greatest efforts seem to be too complicated to tell during the editing, it's maybe better to skip them.
4.2.2 Protagonists tell the story
Movie productions rely on a script that answers the question who the protagonist is very early. While my documentary is designed as an expository documentary portraying a person (as explained in 2.5), the protagonist was as well already settled before production began.
But the question who will tell the story often appears not until the process of editing starts. The main person will be treated differently from the other characters. It will be elaborated a lot broader and more consistent. In some cases a narrative thread which could be guided by another character, is rather told by the protagonist. The main character of the documentary must not get lost during the film, a minor character on the other hand can be introduced over time or it's story could be told to a very early point in time.
What makes a character likeable has to be balanced very carefully. The viewer doesn't care about an unsympathetic protagonists and therefore will not be interested in viewing the documentary. Sympathy brings significance and tension and lets the viewer see things a lot easier from the protagonist's perspective. That's why sometimes the protagonists are even made more likeable during the editing to create a stronger bond with the viewer. Leaving out specific unappealing traits can make a character more friendly than they really are, but also holds the danger of showing a manipulated or blurry picture of the character. The responsibility to do justice to the protagonist remains. In every respect.
An important aspect for the development of the action in the documentary is the emotional development of the characters, which is also controlled dramatically. A scene gets its place in the film, because they can reverberate the previous and reinforces their sense potential. Or vice versa: A scene is used to prepare a second scene. Be it so that it is understood at all, or be it, so that it acquires a particular importance.
Another important aspect for leading the plot in a documentary is the emotional development of the characters, which is also controlled by dramaturgy. A scene gets a specific place in the documentary, because it lets the previous scene continuing to have an effect and intensifies the emotional value.
4.3 Testing process
In nearly all fields of business, science or media, testing is vital to understand methods of obtaining and evaluating data and making measurements.
I decided to choose an independent test group across all social classes matching my preferred target group (25 - 40). The test persons were asked to take part in an online survey after the first edit of the film was presented.
An content-related overview of the questions that were asked can be looked up in the Appendix.
4.3.1 Rough Cut
The first edit of the documentary was more build by a chronological sequence of the events happening. Unfortunately, a real dramatic curve was only recognizable in the approach, but not further elaborated. In addition, the film lacked structure. The test groups feedback turned out accordingly.
Results
Asking how the story could be told in a more interesting way, I got a lot of different answers, ranging from requests to use more scenes of her daily life to comments on content-related questions. The biggest feedback of all answers was, however, critique concerning the voice-over. It was not totally clear to everyone that this would be Marion's thoughts during the respective scenes.

Another question I asked was how the general quality of the film could be improved. Unfortunately, only 30 percent of all participants gave an answer to this, but another third of the viable answers was pointed at the length of some shots. A few establishing shots and scenes between the relevant parts of the story could be shorter. Furthermore, a bit more background information on Marion's condition itself could be more interesting and very valuable for the story.
The final question on what the best and worst parts of the film would be was better received by the test group in terms of participation. Her achievement to build an own and personal "way of the cross" and presenting it in front of a huge audience was the part of the story almost 80 percent of the test group wanted to see in more detail, though it would be a turning point in the story and a "moment of glory" in the otherwise quite oppressive theme.
The scenes in the morning were perceived as the biggest downside in the film. Also the protagonist in the beginning seems very different in comparison to the last scenes, as one person stated. It would be more interesting to clearly see from the start that she doesn't have mental issues to handle with.
All results in detail can be found in the appendix.
Recommendations
To make these and other necessary changes for the final version some additional research is needed. The first and most important of all issues to tackle would be the storytelling. The test group stated that the film has some lengths and could use some more background information. Achieving this, however, can be done by using a three-act-structure to divide the narrative into three parts: Setup, Confrontation and Resolution. Using this structure prevents the storyline from getting too tedious and should make it able to include longer shots in a reasonable way.
Based on the feedback I got regarding the voice-over, I decided to change most of the script completely. It turned out that the approach to tell the story by expressing Marion's thoughts in real-time by a voice-over didn't really work out the way it was intended. The original idea was to reduce the distance between viewer and protagonist by using a friendly and informal narration, but unfortunately the script was lacking depth and didn't provide enough information about Marion's condition. To solve this problem I decided to change the narration to the effect that it provides more information on things like language acquisition and her work as a contributor and artist.
As mentioned above, her creative work was a subject nearly all of the persons reacted very positively to. Working on the final cut I saw the opportunity to set the presentation of her self-made "way of cross" as the films climax. The documentary's new structure can be found in the appendix.
4.3.2 Final Cut
With these recommendations it was possible to create the final edit of the film. In the next paragraph of my thesis I will explain some crucial decision I made during this process.
Edits
My decision to begin the documentary with the most significant subject to the protagonist that occurred during the production was based on the thought to set a clear statement from the very beginning. The first shots completely take a pass on showing Marion and instead show her artworks and reactions of spectators.
After this introduction the viewer gradually approaches Marion and her family. After the establishing shot, we see a full-shot of the inside of the house, then close-ups of photographs, a clock that implies how much time has to be planned in for everything she does. We see a breakfast table with pills, the viewer knows that she needs analgesic. The viewer gets a lot of information in the first few minutes and an impression on how her life looks like and gets to know her morning routine and how her day starts. To really let the viewer just be the observer and the fly on the wall, there is no further explanation by a voice-over.
Another important change I did was including the scenes as Marion presents her language acquisition to a class of social care workers. In this scene I could add more background to her illness and document her language acquisition step by step.
In this scene I decided to use the camera from Marion's point of view to reinforce the sense of being gazed at. The camera wiggles during this shot to simulate walking and remind the viewer of the fact that she doesn't see herself as a disabled person.
To "close the bracket", the film returns to the point where it started and fulfills the ultimate goal of the protagonist: Presenting the "way of cross" and her own art exhibition.
The last shots takes the viewer back "home" again and show the protagonist in relaxed and happy situations.
5 Conclusion & Discussion
A study done by the University of Medicine and Dentistry of New Jersey–School of Osteopathic Medicine done in 2002 showed that the term cerebral palsy is ambiguous to many and may still have negative connotations, even in a sophisticated society. This proved that the problem I came up with is a very common one and in order to find a conclusion to my bachelor thesis I will once again ask the main and sub questions to see if a sufficient answer could be found.
How can I arouse the viewer's empathy and provide general understanding of the daily life and cognitive abilities of physically handicapped people in non-fictional storytelling?

After splitting up the main question into the sub-question I was able to answer each part of the problem separately in an ordered manner.
To build a fundamental understanding of the protagonists condition it was necessary to educate myself about cerebral palsy and people with physical handicaps in general. To achieve this I could draw on a broad variety of literature in form of online-libraries, books, magazines and studies. In addition to that it was very helpful to get into personal contact with affected people and their relatives.
During the research phase and keeping the pre-production of the shooting in mind, I took the time to get in touch with Marion and her family in a very close and intimate manner. Observing and acting as "a fly on the wall" was very valuable to get genuine results and a good preparation for the production of the documentary.
Furthermore I made sure to keep in constant contact with the WDR, as the documentary is planned to be published on the online media library of the TV station.
Having regular scheduled consultations with my supervisor Peter Wejdling was not only helpful to clear up problems even before they occur, due to more than 20 years of experience in journalism and of course writing and directing documentaries he is also very trained in creating interesting storylines and understood the potential of my documentary from the very first day we talked about this project of mine.
He encouraged me to attach great importance on storytelling and how different storytelling techniques can alter the impression of the whole film.
But to answer the sub-questions on how a script for a documentary should look like and what the best storytelling-technique would be there was more theoretical research necessary. After analysing every part of how a documentary is written and after that examining 6 different modes of documentaries I could finally draw a conclusion on how my documentary would fit into this scheme and appreciate the impact a three-act structure has on storytelling.
Even after showing a rough cut to friends and family for testing purposes I got some honest feedback on how the story could impact people that never had any contact with physically disabled. It encourages to discuss about this subject and maybe even makes some people reconsider their own point of view.
5.1 Recommendations
After concluding my bachelor thesis with a retrospect on how I drew my conclusions and what I did to build up a theoretical framework as a guideline for my documentary film I can give some recommendations on how future projects like this can be executed in an efficient and effective way.
While doing desk research, interviews, observations, consultations, writing plans and scripts and compose a narrative thread seems like a lot of work, I can only highlight the importance of such. In that respect the most revealing recommendation of writing a documentary is to attach supreme importance to a good preparation. Being good prepared is one of the most important duties a filmmaker has to stick to. And that counts in every respect. Being well provided not only in a decent preparation, but also during the shooting and post-production is absolutely indispensable. The worst that can happen during a shooting is losing an important scene because batteries have to be changed or there's no storage-space on the camera. Being prepared with a shotlist and script during the shooting helps to stick to the time planning and reduces insecurity and stress associated with it. Being prepared in post-production means thinking about the workflow beforehand. Does the footage have to be converted first? Where do I get music from? Is professional voice-over needed? Does the film need color-grading2? When questions like this are answered early in the process of production, the filmmaker will more likely not be distracted by technical concerns, organisational questions or problems and can concentrate on creative tasks creating a look and feel and telling the story. Needless to say that a good preparation for post-production once again helps to keep deadlines.
Another recommendation I can give is getting in contact with as much professionals as possible. Young filmmakers should not be afraid getting themselves some help from outside or asking (stupid) questions. As professionals filmmakers make a living out of what they do, they are very well trained in their job and usually are more than happy to help, as this means placing one's trust in them and therefore respecting their work.
2 Color-grading can be best described as altering the video footage during the post-production using color-wheels or effects providing the image with a certain look & feel.
Personal thoughts
Finally it should be mentioned that the world of cinema, television and advertising always had a huge impact on my imagination and my plans what I wanted to do when I would be graduating. Apart from this graduation project I also worked on some personal filming and movie projects during my free time. Saxion always gave me the opportunity to work in a very enjoyable atmosphere and always encouraged me to stay creative.
During my studies and especially during the this graduation project and my internship I learned a lot about working with customers, setting up lighting, visual language and composition. I worked as an editor for 3 months and could participate very closely in the daily working process. My plans to work as a Photographer and filmmaker for events and advertising didn't change, though. Making a documentary film is a great way to tell stories and it's very interesting to meet all kinds of different people, but this might not be the right choice for me. Nevertheless - this graduation project was a great opportunity for me to get profound insights in documentary filmmaking.
6 Sources

Unterstützte Kommunikation (UK). (n.d.). Retrieved September 28, 2016, from http://www.birgit-lange.de/themen/auswahl/uk.html

What are Cognitive Abilities and Skills, and How to Boost Them? (2016). Retrieved September 28, 2016, from http://sharpbrains.com/blog/2006/12/18/what-are-cognitive-abilities/

Moura, G. (2014). Gabe Moura. Retrieved September 28, 2016, from http://www.elementsofcinema.com/cinematography/camera-angles-and-composition/

Augmentative and Alternative Communication (AAC). Retrieved September 28, 2016, from http://www.asha.org/public/speech/disorders/AAC/#types_aac

Public perceptions of cerebral palsy | The Journal of the American Osteopathic Association. (n.d.). Retrieved September 28, 2016, from http://jaoa.org/article.aspx?articleid=2092629

Cognitive Skills of the Brain - Brain Injury Alliance of Utah. (n.d.). Retrieved September 28, 2016, from https://biau.org/about-brain-injuries/cognitive-skills-of-the-brain/
Understanding the Inverse-Square Law of Light. Retrieved September 28, 2016, from http://petapixel.com/2016/06/02/primer-inverse-square-law-light/
What is Visual Language? (n.d.). Retrieved September 28, 2016, from http://www.visuallanguagelab.com/vislang.html
The Language of Imagery - How Directors and Actors Use Visual Imagery To Communicate. Retrieved September 28, 2016, from http://edictive.com/blog/the-language-of-imagery-how-directors-and-actors-use-visual-imagery-to-communicate/
Bernard, B. S. (n.d.). Documentary Storytelling: The Drama of Real Life. Retrieved September 28, 2016, from https://www.writersstore.com/documentary-storytelling-the-drama-of-real-life/
Hot Pursuit Press Folgen. (2013). 50 things you don't know about non-fiction storytelling (for journali... Retrieved September 28, 2016, from http://de.slideshare.net/HotPursuitPress/an-introduction-to-story-design-for-journalists-educators
Film Editing – Dramatizing Life! (2004). Retrieved September 28, 2016, from http://www.schnitt.de/212,5654,01.html
6 Types of Documentary. (2009). Retrieved September 28, 2016, from https://collaborativedocumentary.wordpress.com/6-types-of-documentary/
H. (2016). The 6 Types of Documentary Films. Retrieved September 28, 2016, from http://www.premiumbeat.com/blog/6-types-of-documentary-film/
Six Primary Styles of Documentary Production. (n.d.). Retrieved September 28, 2016, from https://www.videomaker.com/article/c06/18423-six-primary-styles-of-documentary-production
Problem definition. Retrieved September 29, 2016, from http://www.wikid.eu/index.php/Problem_definition

Rabinger, M. (1992). Directing the documentary.
Grit, R. (2011). Project management: A practical approach. Amsterdam: Routledge.
Block, B. A. (2008). The visual story: Creating the visual structure of film, TV and digital media. Oxford: Focal.
Proferes, N. T. (2008). Film directing fundamentals: See your film before shooting. Amsterdam: Focal Press.
Telling your story: Using film language - Learn about film. Retrieved October 19, 2016, from http://learnaboutfilm.com/film-language/

Best DSLR Shoulder Mount: Why & When to Use a Rig. (n.d.). Retrieved October 20, 2016, from
https://www.lightsfilmschool.com/blog/best-dslr-shoulder-mount-why-when-to-use-rig/1815/

[a]Theory
Stakeholders
Research on Topic
Augmentative and alternative communication
Cognitive skills and abilities
Outsiders approaching cerebral palsy
Research on Documentaries
How to write?
Types of documentaries
Examples and analysis of 15-minute documentaries
Testing
[b]- How do outsiders appraoch cp? (Based on study)
- Target group? (Who? Why? Based on research!)
- Testing of film (Based on poll)
- Examples 15-minute docs
[c]results of sub-questions